Mtx Car Audio

MTX 8000 series 12" subwoofers

Looking for a car audio system that will be heard from 1/2 mile away??? Well, you've come to the right place. MTX's competition-level Thunder8000 12" subwoofer is a showcase of high performance and dynamic sound. The strontium ferrite magnet alone weighs in at a mighty 102 ounces (6.37 lbs.)! This heavyweight unloads some of the biggest bass that MTX has to offer.

The Thunder8000 demonstrates its strength in every facet. 12 polished ribs increase rigidity and fortify the mica-filled poly cone with aluminum finish against incredible sound pressure. The T8124A also features a sturdy 12-leg, die-cast aluminum basket for an extra-stable structure. A durable black NBR (Nitrile Butadiene Rubber) surround fends off moisture and temperature extremes for long-term speaker accuracy

A four-layer 2-1/2" voice coil keeps this sub nice and cool, even when the music is raging. Spider plateau venting — small vents around the frames — also helps dissipate hot air and curb distortion.

RETAIL PRICE: $299 + TAX

YOUR PRICE: SOLD OUT!!!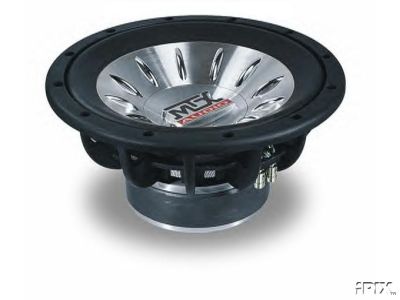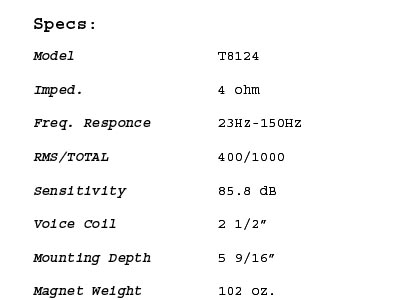 MTX Thunder 81000D class mono amp 1500 Watts
Need an amp to go with your subs? This amp will be more than enough power for your system. If you're really serious about your bass, check out the MTX Thunder81000D mono subwoofer amplifier. MTX uses its ultra-efficient Adaptive Class D amp technology to get 1500 watts of kickin' power out of a relatively small package. The built-in compression circuit irons out voltage peaks so you can push this amp hard without damaging your subs. The Thunder81000D is loaded with the best of MTX's innovative technology, including super-fast MOSFET power supplies, low-impedance/high-power transformers (which produce less heat for more reliable performance), and a variable low-pass crossover with a sharp 24 dB per octave slope. Add Thunder EQ bass boost and an EBC2 port (which allows control of multiple Thunder EQ-equipped amps with one EBC remote), and you'll have the biggest, baddest bass output machine around!
RETAIL PRICE: $750 + TAX
YOUR PRICE: $425
ONLY 1 AMP REMAINING!!
Features Specifications
Intelligent surface mount technology
Patented PWM MOSFET switching power supply
Adaptive Class D technology
High powered transformer
High powered stacked inductor
Pure N-channel design
Doubles power into 2 ohms
Real time computerized protection circuit
Variable frequency low-pass crossover, 40Hz to 200Hz, 24dB/octave low pass
Defeatable compression circuit
Continuously adjustable and defeatable Bass EQ enhancement circuitry, centered at 40Hz
Low level inputs
EBC - External Bass Control Port with an additional 3dB of gain when used, 23dB attenuation
Adjustable input sensitivity
Buffered RCA Outputs for daisy-chaining additional bass amplifiers
Nickel-plated, heavy duty terminal block type connectors
Unique Rubber Insulated Iso-Feet

RMS Power measured at 12.5 volts dc:

500 Watts x 1 into a 4 ohm load with less than 2% Thd+N

1000 Watts x 1 into a 2 ohm load with less than 2% Thd+N

Dynamic power measured at 14.4 volts dc

850 Watts x 1 into a 4 ohm load

1500 Watts x 1 into a 2 ohm load

Signal to Noise Ratio: >100dB A-Weighted

Damping Factor: >100

Frequency Response: 20Hz-200Hz

Maximum Input: 8Vrms

Thunder EQ: Variable Bass Boost (0-18dB) centered at 40Hz

Crossover: Variable 40Hz to 200Hz, 24dB/octave low pass

Dimensions: 15.4" x 9.75" x 2".(40.1cm x 24.8cm x 5.1cm) Including isofeet

Recommended Fuse = 150A
NOTE: PRICES DO NOT INCLUDE SHIPPING AND HANDLING. THERE IS NO SALES TAX.